Job Interview Coaching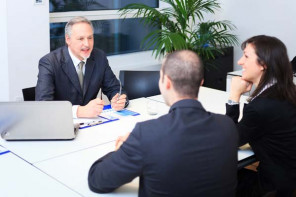 The Competition is FIERCE.
Are you ready to compete?








TEST YOURSELF to SEE IF YOU're ready
Failing to nail any one of these can kill your job interview.
Can you articulate four ways you contribute to your employer making money, saving money, or improving services?
Do you have eight carefully-polished stories to illustrate your effectiveness?
Can you tell the employer why you want to work at his/her company? Hint: it shouldn't sound like fluff.
What questions will you ask to determine whether the job is right for you?
Are you prepared to discuss weak spots: Why you were fired? Why you are leaving your current job or industry? Why have you been out of work so long?
Do you know how to keep yourself from being eliminated by salary issues?
Do you know when to discuss salary and when to avoid it?
If you're applying for a job that pays less than you earned before, do you know how to gracefully address the topic?
What question can you ask that will endear you to the boss every time?
How do you respond when the employer asks you to discuss a time you failed?
After the interview: How do you avoid waiting and wondering whether the hiring manager intends to hire you?
Maybe that didn't go so well?
If you're not 100% sure you're ready, call today to get some help. We have helped people from across America achieve breakthrough results.